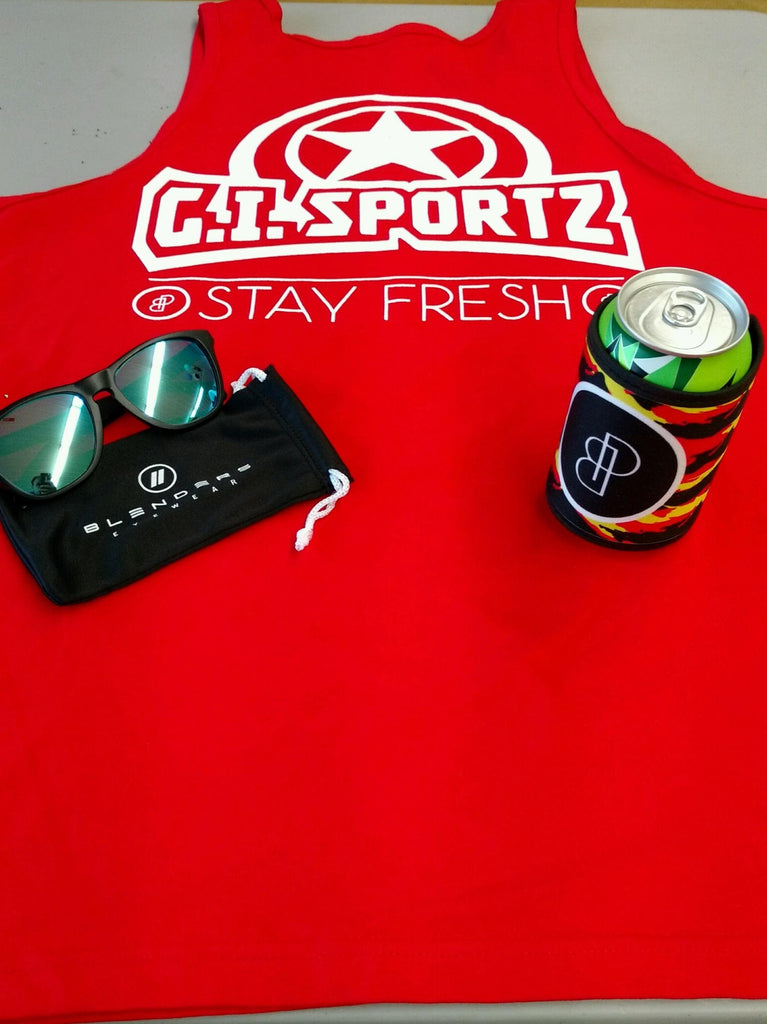 Yooooo Swagaholic Nation, 
In case you missed out on the May shipment, check out what we sent to you crazy kids! 
Here is what was included in your little bag of happiness this month:
GI Sportz/PB SwagBag Tank Top: Suns out guns out…but remember those puppies need a carry permit in all 53 states...or something like that.  Continue impressing the opposite sex all summer long with those chiseled biceps and terrifying triceps! Just don't forget the sunscreen!
          Retail value $25
Ruthless Custom Koozie:  It's that time of the year when you set your beverage down for longer than a minute and that sucker ends up hotter than the Nahabi in the middle of the summer!  Never fear, PB SwagBag is here bringing you this sick custom koozie wrap to keep you coooooolllll as ice!!
          Retail Value $5
For all you SUPER SWAG BAG subscribers, your additional item is this:
Blenders Eyewear Sunglasses:  These beautifully crafted shades will protect your eyeballs from the sun, all while looking like a Rockstar in the process! So much swag...it's starting to hurt!!
          Retail Value $30
Now it's time for your favorite class you just happen to sleep through…let's do a little paintball math…that's a $60 retail value for our Super Swag Bag for just $37.95…shipped to your door!! And of course, a $30 value for the Swag Bag $27.95….plus free stickers!!  Seriously, you should feel like the smartest guy at the field with these savings.
---