March "Hot Item of the Month" Giveaway and more!!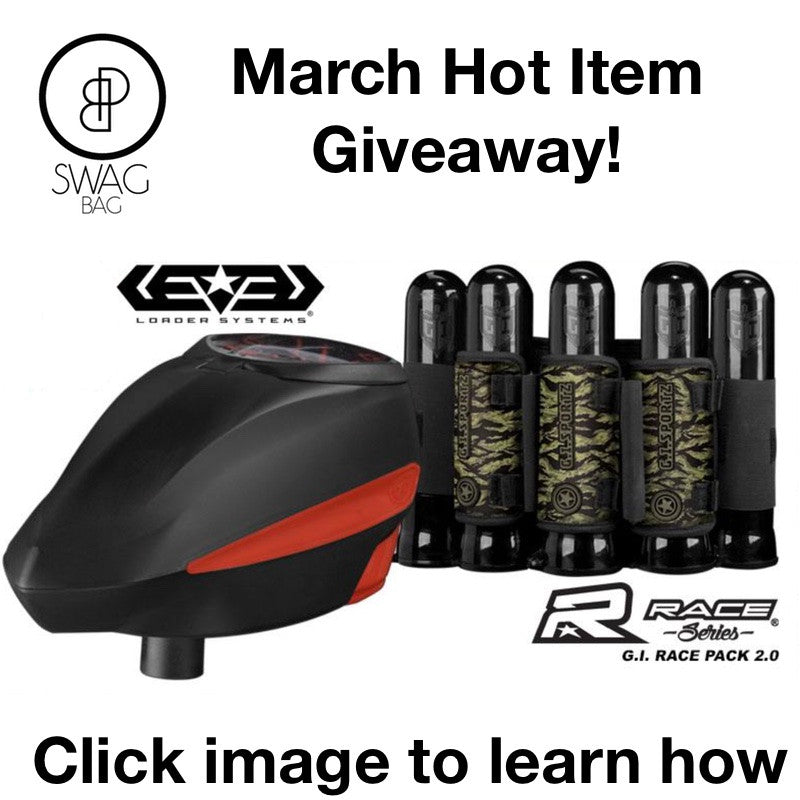 Hello SwagBag Nation,
Just a little update here from the current PB SwagBag headquarters where it's starting to feel a little more like paintball weather! (aka the middle of the Midwest)
Our March "Hot Item of the Month" Giveaway is hotter than the beach during Spring Break!! We will have 2 lucky winners this coming month!  First, is the new GI Sportz Loader System which is one of the top loaders out there!!  Second, one lucky subscriber will win the new GI Race Pack 2.0.  The "Hot Item of the Month" Giveaway is an added bonus for subscribers, where we randomly draw 1 or 2 winners to win amazing prizes IN ADDITION to the great products they are already receiving!!  It doesn't get much fresher than that my friends!!  
For all you future swaggernauts out there, you may be asking what exactly is PB SwagBag and how do I win awesome prizes like these every month? Well, I thought you'd never ask!? 
PB SwagBag is a monthly paintball subscription service just like the ones you are already use to like Dollar Shave Club, LootCrate, etc. Every month, on the 1st, we send out awesome, new paintball items straight to your door!  Shipping is always included in the price for US orders and international customers have the option to subscribe by paying an extra monthly shipping fee!
We offer the Super SwagBag (best value) for $34.95 a month.  You will receive 2 - $20 range items and 1 $10 range item!  All of our Super SwagBags have at least a $50 retail value for $34.95 shipped!!  I don't know about you, but if it that isn't the best deal in paintball, you should probably put down the Nerf gun and jump on the bandwagon!  Here is last month's Super SwagBag, which had a retail value of $62, plus custom one of a kind items that ONLY our subscribers can get!! Custom Dye Paintball shirt, STAY FRESH Social paintball Headband and Exalt Ball Sizer!!
Second, is the regular SwagBag.  This spicey lil mamma carries a price tag of $24.95 a month and includes 1 - $20 range item and 1 - $10 range item!  You will receive a minimum of a $30 retail value each month, plus FREE stickers!!  
We also offer international shipping for an additional set fee each month!  
Feel free to browse our past blog posts, FaceBook and Instagram pages for pictures of previous month's bags!  We are always doing some sort of giveaway, so tell your friends and stay up to date on our Social Media sites!!
OH YEAH BEFORE I FORGET, head over to YouTube or our previous blog post and check out the funny commercial we made with fellow Swagbagger, the infamous Nick Slowiak!! Just a warning, it may make you hungry! 
Until next time, STAY FRESH my friends and get out there and shoot people!! (with paintball guns that is!)
- Mike & Travis
---